Department of Experimental Medicine I
We investigate tumor progression from initiation of precursor lesions towards invasion and metastasis. Based on understanding the underlying molecular mechanisms, our aim is to develop novel therapeutic concepts against these processes. We integrate basic as well as translational and clinically relevant research aspects and focus on gastrointestinal cancer, but also include other cancer types for validation of results.
The Chair of Experimental Medicine 1 is localized at the Nikolaus-Fiebiger-Center for Molecular Medicine of the Friedrich-Alexander-Universität (FAU) Erlangen-Nürnberg. The FAU was founded in 1743 and is one of the biggest universities in Germany with more than 40,000 students (https://www.fau.de/).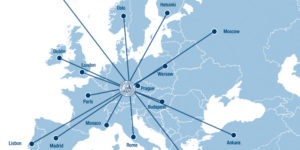 Erlangen is located in northern Bavaria in close proximity to Nuremberg (25 km), the world heritage site Bamberg (30 km) and Munich (180 km).
The closest airports are Albrecht-Duerer-Airport Nuremberg (15 km) and Franz-Josef-Strauss Airport Munich (170 km).
Chair:
Principal Investigators:
Postdoctoral fellow:
PhD Students:
Technicians:
Office:
Overview
We are interested in basic mechanisms of malignant tumor progression, which are used by all major solid cancers. We focus on gastrointestinal cancers, particularly pancreatic and colorectal cancer, but also include analyses of breast and lung cancer for validation of results.
Carcinomas represent the most prevalent malignancies in humans and arise from normal epithelial tissues in a multistep progression from benign precursor lesions. Metastasis, the final step in malignancy, is the major cause of death for cancer patients. Recent models explain selected aspects of the complex tumor progression process: Unrestricted growth, a hallmark of both benign and malignant tumors, can be attributed to cancer stem cells. Generally, a stepwise accumulation of genetic alterations in oncogenes and tumor suppressor genes is considered as a driving force for malignancy. The breakdown of epithelial cell homeostasis leading to aggressive cancer progression has been correlated with the loss of epithelial characteristics and the acquisition of a migratory phenotype. This phenomenon, referred to as epithelial to mesenchymal transition (EMT), is considered a crucial event in malignancy.
EMT not only induces cellular motility, but also confers stemness properties to (cancer) cells. Thus EMT is also participating in the initiation and maintenance of a cancer stem cell phenotype.
Important steps enabling metastasis are reversible, and thus cannot solely be explained by irreversible genetic alterations, indicating the existance of a dynamic component to human tumor progression, and in particular a regulatory role for the tumor environment, which was already demonstrated in many experimental systems. Tumors are not autonomously acting proliferation machines, but are very heterogenous, both in their morphological and functional aspects. In fact, an individual tumor shows distinct subareas of proliferation and cell cycle arrest, epithelial differentiation and EMT and cell adhesion and dissemination. How are all these different traits orchestrated?
Cellular plasticity: a driving force for cancer progression and other disease processes
It became evident that cancer cells are highly adaptive to the demanding environmental conditions – a property which can be summarized as aberrant cellular plasticity.
In addition to accumulation of genetic alterations, aberrant cellular plasticity is now considered as a major driving force for cancer progression towards a therapy resistant, metastatic disease, as well as for the pathogenesis of other diseases. Our group has discovered one underlying molecular mechanisms controlling cellular plasticity:  A phenotypic switch between a stemness/EMT state and a differentiated state, which is exerted by a double-negative feedback loop between the EMT-activator ZEB1 and the miR-200 family of microRNAS, the so-called ZEB1 / miR-200 feedback loop.
Research program
Future work will address the role cellular plasticity in cancer and other diseases and explore it as a target of therapeutic intervention. We will:
Investigate the role of the EMT-activator ZEB1 in cancer initiation and metastasis using genetic models of pancreatic and colon cancer
Investigate the microenvironment as a modulator of cellular plasticity in cancer
Identify novel mechanisms underlying cellular plasticity
Explore the translational and clinical relevance by developing novel treatment strategies
Investigate the role of cellular plasticity in other disease processes
Explore to role of immuno-physical input on the plasticity of cancer cells and its consequences for tumor progression towards metastasis (in cooperation with other groups of the Immunophysics cluster)
To address our research questions, we use molecular, epigenetic and genetic approaches, cell and animal models (e.g. mouse tumor models and conditional knockout and transgenic models of plasticity-related genes), as well as human tumor material and patients' data for proofing translational and clinical relevance.
We are strongly engaged in teaching at different educational levels (Bachelor-, Master-, PhD-students) and disciplines (medicine, molecular medicine, biology). Teaching includes lectures, courses and internships for Bachelor- and Masterstudents. PhD students are integrated in a local graduate school programme. All lab members participate regularly in journal clubs, lab meetings and external seminars of guest speakers.
All information about the study of Molecular Medicine can be found on the pages of the Faculty of Medicine:
Course materials are available for download 
For information about lectures and courses for the current semester, please follow the link to

The Nikolaus-Fiebiger-Center (NFZ) of Molecular Medicine is a research institution of the Faculty of Medicine at the Friedrich-Alexander
Universität FAU) of Erlangen-Nuernberg. The center harbours two chairs of Experimental Medicine (Molecular Pathogenesis Research and Molecular Oncology), a division of Molecular Immunology, a division of Genetics (Science Faculty) as well as several junior research groups of the Interdisciplinary Clinical Research Center (IZKF). The intention of the research center is to strengthen biomedical research in the Medical School by stimulating cooperations between basic and clinical researchers and giving young clinicians the opportunity to carry out competitive biomedical research projects under the infrastructure of a modern research center.
The Nikolaus-Fiebiger-Center is well equipped with modern research facilities required for cell and molecular biological research and offers a variety of biochemical, immunological and cell biological seminars, guest lectures and common graduate student seminars. Communication between all scientific and technical staff is greatly facilitated by a modern computer network allowing access to data banks and electronic libraries from each desk. Central equipment such as DNA-sequencing, fluorescence activated cell sorting, confocal laser microscopy, surface plasmon resonance as well as animal facilities are accessible for all scientists and technical personell.
Department of Experimental Medicine I
Nikolaus-Fiebiger-Center for Molecular Medicine
Glückstr. 6
91054 Erlangen
Germany
The Nikolaus-Fiebiger-Center is conveniently located very close to the city center of Erlangen. It is just a short walk from here to the main train station. The closest bus stop is "Hindenburgstraße", which is a stop along the lines 289, 290 and 252.